I CAN'T!!!!!!!!! Episode 2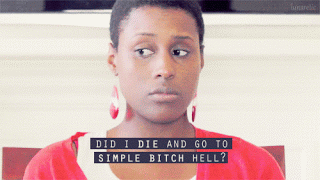 I know I can be bougie, but I'mma need these people to do better, before I have to get them ALL the way together.
Smh!!!!!!!!!!!!!!!!!!!! It shouldn't surprise me that I can't even go a few days without incompetent people screwing with my life. UGH!!!!!!!!!!!!!!!!!!!! I really can't. So yesterday, I was at work minding my own business in my cubicle when I nearly had a heart attack. The day had been a fairly uneventful one. I listened in on a meeting, checked some emails, peered at the photo of Beyonce on Terrence Howard's lap that hangs over my desk, had a chicken sandwich, you know the norm. Anywhoo, something told me to check my tuition bill since I have a couple of grand due on it by March 1st.
This very picture !!!
Now let me give you some background, I am on a deferment plan with my bill. I've already paid exactly half of my tuition for the Spring semester and I owe the other half in installments. A portion is due March 1st and the final portion is due April 1st. Now when I signed in to view my bill these feeble minded buffoons say that I owe $30,000!!!!!!!!!!! Are you freakin kidding my, that's well over five times the amount that I am supposed to owe. After clutching my heart and breathing heavily for some time, I calmed myself down enough to really look at the bill closely. AND DO YOU KNOW WHAT THESE UNQUALIFIED BEASTS DID??!!!!. Instead of taking my scholarships and subtracting them from my bill, they ADDED THEM. Shall we reexamine? At the very basic level of their jobs, all these people have to do is know that when someone pays their bill or gets additional funding you SUBTRACT that amount from the total bill due. OBVIOUSLY that's too much to ask for, and they want me to act a plum fool especially considering the fact that I graduate in 3 months I really DON'T have time for this.
xoxoxo Chocolate Girl In the City xoxoxoxo PS. I really wish my fro was a lot bigger for this whole ordeal.