An 'American Gods' Chat w/ Ricky Whittle, Yetide Badaki, Orlando Jones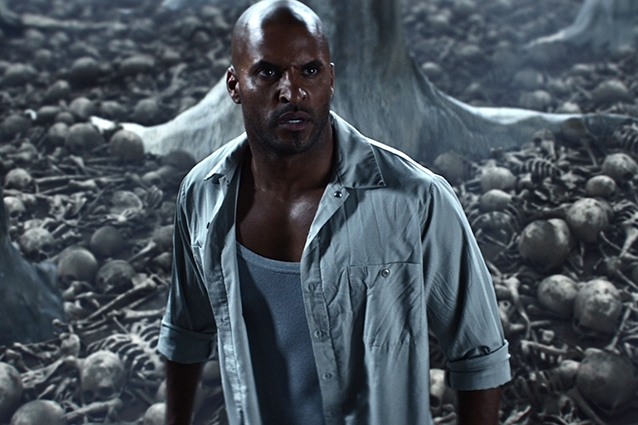 After many years in limbo, Starz is bringing Neil Gaiman's critically acclaimed novel "American Gods" to life. The gorgeously shot epic, follows Shadow Moon (Ricky Whittle), a man who is released from prison early after his wife Laura dies in a car accident. On his way home, Shadow encounters an eclectic man named Mr. Wednesday (Ian McShane), who offers him a job as his bodyguard. As Shadow is pulled into Mr. Wednesday's world, we soon learn that he is not, in fact, the con-artist that he is masquerading himself to be. Instead, Mr. Wednesday is the god, Odin, who is making his way across America to try and unite the old Gods who have integrated themselves into American life in a war against the new Gods, Media and Technology who are consuming the world.
As Shadow and Mr. Wednesday move across the country battling for the very soul of America, "American Gods" gives us the immigration stories of various mythical beings in America. Ahead of the series premiere, I had the opportunity to sit down with Ricky Whittle who stars as Shadow Moon, Yetide Badaki who stars as the love goddess Bilquis and Orlando Jones who brings Mr. Nancy aka Anansi to life.
Aramide Tinubu: Ricky, what did you know about Neil Gaiman's novel prior to signing on to the series?
Ricky Whittle: I didn't know about "American Gods" until fans started hashtagging me online. That's why I'll always have an affinity and a love for my fans because I wouldn't be here if it weren't for them. I feel very grateful that they introduced this project to my life and allowed to me to audition in the first place.
AT: What was the audition process like for you?
RW: Starz put out a search #CastingShadow. They wanted the fans to have input because it's a huge book and Neil Gaiman is a rock star. After sixteen years of anticipation, the fans put me forward and feel very blessed and honored to be a part of that. That's when I took it to my reps. I started reading the book during the audition process, and Bryan and Michael stopped me because it was affecting my auditions. I spoke to Neil about it recently actually. He told me they saw twelve-hundred tapes.
AT: Stop it! Just for Shadow Moon?! That's incredible.
RW: So to whittle it down, wow that is a terrible pun. I apologize that is awful! (Laughing) But, to whittle it down to the last person that is an incredible honor. They stopped me from reading the book early on in the audition process because I was too much like Shadow in the book; quiet, blasé and too laid back. They needed to adapt him to screen. We wanted the character to be more vocal and charismatic and to have a little bit more about him; to ask more questions and to have anxiety and fears. After we finished filming, I was able to go back and read through it. That's when I really appreciated the script for what it was because I could see the magic that Bryan and Michael had done with the script and in changing the timeline. It blew my mind. Fans of the book who know it inside and out are still going to watch with fresh eyes because everything they love in the book is in the show, but so much more.
Continue reading at Shadow and Act.