School Was My Hustle Part II: Work Flow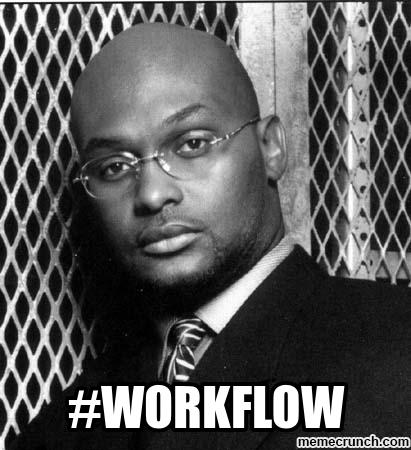 "The things that you are passionate about aren't random, they're your calling."
Read "School Was My Hustle Part I: Grad School & The Job Hunt" HERE
Shit ain't like it use to be. Or at least it's definitely not how I expected it would be. All my life I had it drilled into my head that once you got a good education you would get a good job. To me good job equals nice clothes, traveling and brunchin'. More education meant a better salary. All I will say is that the past 6 months or so definitely taught me a lot about how ish was really gonna be. Y'all already know about my first "adult" job. I shan't rehash that foolery.
What happened in the three and a half months before I got the new position that I'm currently in is what's most interesting. For the first couple of months of job hunting I was super optimistic about my prospects. (Ya girl can snag an interview. I probably did about 8 in-person and 5 over the phone.) And yet, despite the fact that I think I'm a really good interviewer and a damn good candidate I landed only 1 job. It's hard out here for a chick. As I got more and more frustrated with the outside world and my lack of employment, I decided to focus on what I was most passionate about, the "work" that I'd do, have done and will do for free.
When I was writing and watching  and reviewing , those were the days when I felt most at peace. My freedom allowed me the ability to travel, to spend time with my family and to experience new things. Despite all of that, there were days when I felt ashamed of my funemployment. I think that in the climate of my generation's competitiveness, its easy to feel like you're behind your peers, that you're somehow slacking not quite keeping up with the flow of things. I would ride the train in the middle of the day headed to a film screening or to run errands. Were people judging me for my "leisurely" life. (In retrospect I realize how foolish this sounds.) But these assumed judgements were the least of my worries.
Money. Money was my major concern. Savings eventually run dry my student loans kick in at the end of this month and NYC is not a cheap place to live. Hell it's not even a cheap place to breathe.
I wanted to give up so many times. I rationalized that perhaps NYC wasn't where I was supposed to end up. But other times I thought F that! I got two degrees in five and a half years from damn good schools never missing a beat despite the chaos of my personal life.
Luckily I didn't give up on myself because the universe wasn't ready to give up on me. In a span of one week I had  four different interviews and I was offered a really good position at a really good company. Was it exactly what I expected when exactly I expected it? No. But then again life rarely ever is.  I'm still working towards my passions I definitely have an end game but until then I'm enjoying the work flow.
A fully employed Chocolate Girl in the City  xoxoxoxox
PS: I'm at the airport on my way to see the queen more on that later ;)